Tourist Tariff 2018
| | |
| --- | --- |
| Unit = | Caravan, Motor Caravan or Tent, 1 vehicle and 2 people. |
Caravan Pitch
Tent
Pup
Med.
Large
= 1 Unit, inc. 10 amp electric facility
= 1 Unit, limited electric facilities available
March 24th to July 19th
£18.50per night
£16.00 per night
£20.00 per night
£25.00 per night
July 20th to Sept 2nd
£21.00per night
£19.00 per night
£23.00 per night
£28.00 per night
Sept 3rd to Oct 31st
£18.50per night
£16.00 per night
£20.00 per night
£25.00 per night

Monday to Thursday Nights at £2.00 per night discount for Caravans / Motorhomes
| | | |
| --- | --- | --- |
|  BankHoliday w/e  (Minimum 3 days) | £96 (from Fri 12 noon till Mon 4pm) | £63 / £87 / £102   (from Fri 12 noon till Mon 4pm) |
| Additional People(Children under 10 free) | £2.50 per night, per person |   £2.50 per night, per person |
| Awnings and Well Behaved Dogs | Free | Free |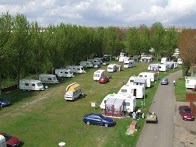 A non-returnable deposit of £20.00 is payable in advance on all Bank Holiday Bookings. Where no deposit is received, the Management cannot guarantee to reserve a pitch.
A refundable deposit of £10.00 is charged for the key to the showers/toilets.
All pitches must be vacated by 11am on the day of departure unless otherwise arranged through the Office.
No commercial vehicles will be allowed on the Caravan Park. Dogs must be kept on a lead at all times. Dog owners must clear up after their dog. Doggy Bins and Bags are provided and must be used. Owners whose dogs misbehave in any way will be asked to remove them.
Customers are requested to inform the Office, if having booked, they no longer require their reserved pitch. We can then re book the pitch.